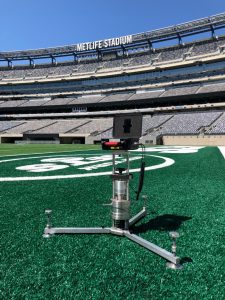 Firefly Sports Testing satisfied with upgrade!
Deltec Equipment and Firefly Sports Testing have known each other for several years. So when Firefly Sports Testing had a need to upgrade their two non- Deltec Equipment 3A impact testers to a newer version they chose to upgrade to the newest hard- and software of Deltec Equipment.
Firefly Sports Testing needed this upgrade because their machines wore down and it was hard to keep up with maintenance or receive upgrades from their former supplier.
Since Deltec Equipment is known as a company that delivers quality and compact devices, it was an easy choice. "We have had a good run with other equipment over the years and Deltec Equipment also provides great service" is a quote used from an interview recently held with Firefly Sports Testing on customer satisfaction.
Firefly Sports testing appreciates the easy to use equipment, the clear manuals and the technique that is better and more advanced than others. Most of the satisfaction comes from good customer service and the fact that the technical persons take time to help in case of any problems.
They are using the new software and app and find it very helpful. "It is working correctly and efficiently". Firefly Sports Testing uses the equipment in the lab and on-site and recently at a customers' artificial turf field in an NFL stadium.
Calibration
Without calibration, testing is useless. Therefore Deltec equipment offers a calibration service to check and calibrate your sensor conform NEN-EN-ISO/IEC 17025:2005 by official third parties.
The calibrated parts will be delivered with original calibration certificates from single components like sensors and springs. All weights are being checked on calibrated scales and Deltec Equipment developed a number of internal calibration methods to guaranty a correct working device. So your equipment will be ready for use and officially calibrated for another 2 years.
Service & Upgrade
When you service your device at Deltec Equipment you can be 100% sure that original parts are being used and advanced. After service and upgrade your device is updated to the latest techniques and ready to operate for another 5 to 10 years.
Delivery times
The above services are requested many times and at the moment and we foresee a delay in delivery after the summer. So we advise if needed do not wait too long for your service and upgrade to the latest 2020 model.
Are you experiencing difficulties with your non-Deltec equipment? Or are you in need of something more advanced? We are able to upgrade your equipment. How? Please contact us at www.deltecequipment.com