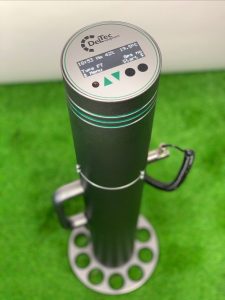 Just an update of our news in April. While we are all trying to make the best of the situation concerning COVID-19, at Deltec Equipment we felt the need to reach out to you. We are here for you and keep working on all of your questions, offers, and products. We keep to the requirements of our government and have made the necessary changes. When we all are obligated to slow down a bit and be aware of our health and the health of others, a lot of events have been canceled. Although this might be a time to sit back and relax, this could also be a time to check your surfaces. Are your playgrounds still good to go? Are your floors still tested compliant with the standards? Is your artificial turf field ready to receive players? This might be a good time to run some checks and do some testing as the floor is yours! So, when the whole world is running out, this can be a time that you are running in!
With this message, we are reminding you of our FieldTester that is perfect for indicative testing of your floor or artificial turf surfaces and we can also offer this one in a FieldTester with indicative Clegg Hammer values. The Rotational Resistance Tester lightweight is one of our easy to move developments that is ready for use.
When you prefer to be compliant with the standards and need official equipment, we refer you to our Proline page with our wireless equipment.