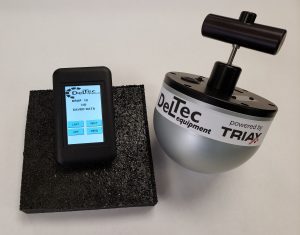 Deltec Equipment is pleased to announce the new wireless HIC Impact Tester in collaboration with our partner Alpha Automation.
This wireless HIC Impact Tester is designed as a maintenance and inspection device to determine the HIC (Head Injury Criteria) and g (acceleration due to gravity) performance with a single drop from a selected drop height. The HIC and g values can be compared to the EN1177:2018 method 2 and to the ASTM F1292
The operator has the advantage of making real-time risk assessment decisions with regard to the performance of the surface. He also has the possibility to decide whether playing should be continued or behavior should be modified to reduce the potential severity of injury.
These advantages allow:
Installers to demonstrate compliance with the standards to their customers at installation or over the warranty period;
Owners and maintainers to manage their playground assets better by knowing when maintenance should be performed or to begin to plan for replacement of the surface in the future.
Parents, caregivers, and supervisors to consider the risk of injury from a fall to the surface whether the surface is new, or there has been a weather event (such as a storm or cold) and to make informed decisions based on accurate measurements.
Owners and maintainers to decide when more rigorous testing might be appropriate.
This quick and easy to use mobile Wireless HIC system exists of an artificial head with an integrated tri-axial MEMS sensor that measures up to 200g accelerations that can occur during an impact. Included is a professional handheld that calculates and records the height of the drop for each drop. The device stores the data for documentation up to 100 drops in 10 folders. The data is stored on an SD card that can be uploaded to your PC.
Looking for a quick and easy to use device without tripod and wires for a small budget? Then this might be the unit for you.