Since 1986 Alpha Automation has been engineering and manufacturing unique electronic instruments, controls and precision mechanisms across a wide range of applications worldwide.
Paul Bamburak of Alpha Automation Inc. (Alpha) and Rolf Huber of Canadian Playground Advisory Inc. (CPA) joined together with playground pioneer Mr. Paul Hogan of Playground Clearing House to develop his vision into a range of impact attenuation and related test devices that have attained international recognition as the gold standard for accuracy in the testing of surfaces in playgrounds, sports fields and many other impact attenuating surfaces. This collaboration has resulted in the availability of the latest state of the art devices, training and information dissemination and the crown jewel, the TRIAX TOUCH impact testing system. All of our systems come standard with an ISO 17025 calibration, and certificates of compliance are available upon request. The TRIAX PC Report Generating software is included in the cost of the system.
Featuring the 4.6kg hemispherical missile (compliant with ISO TS24667, ASTM F355 procedure "E" , EN1177 and all other relevant international standards) the TRIAX TOUCH system provides instant and accurate G and HIC measurements. By making our devices completely wireless, the ease of use is hard to beat.
The TRIAX TOUCH comes with various user selected software for Critical Height, Individual Impact Testing, and Rugby.
Rugby Field Testing
The 4.6kg hemispherical missile from the TRIAX TOUCH meets the requirements for testing a field for Critical Height or Single drop to Regulation 22, and ASTM F3146.  Special Rugby mode software is included with the TRIAX TOUCH.
Alpha offers a dedicated 4.6 kg missile that meets EN 1176-2, ASTM F1487, CSA Z614, AS4685 standards requirements to test the impact of swing seats!
Also available is the 20lb cylindrical ASTM F355 "A" missile, or GMAX tester, for testing surfaces such as playing fields, wrestling mats, trampolines and padding.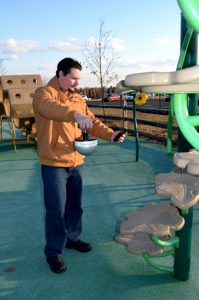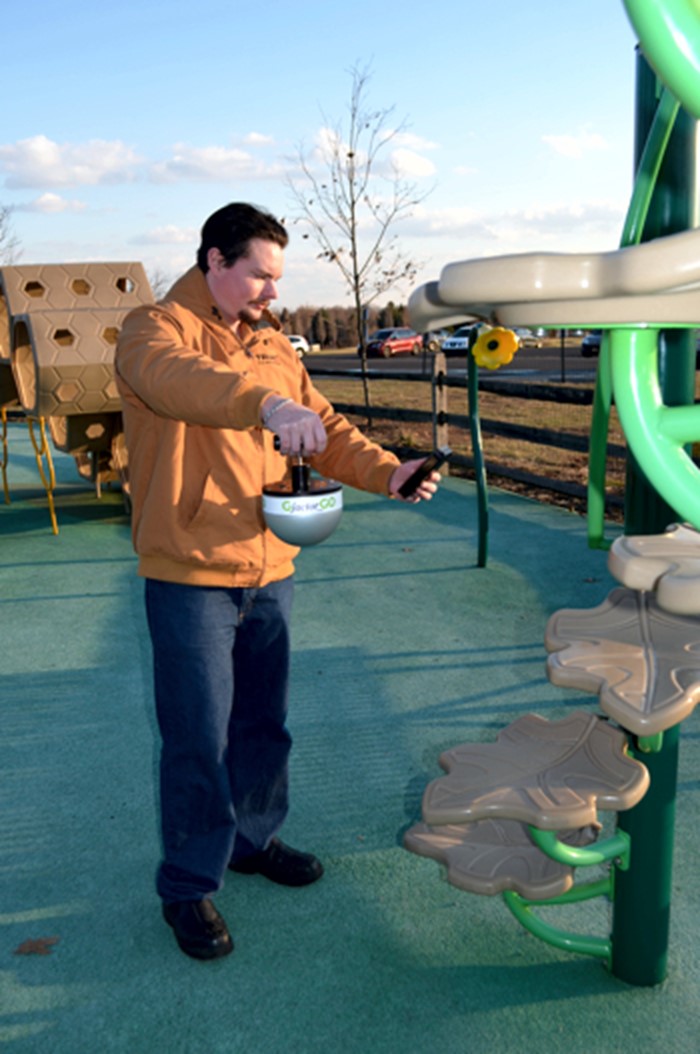 This wireless 4.6 hemispherical missile is specifically designed to meet the budget of any owner of a playground or sports field to be able to perform single drops without a support structure to confirm compliance with EN1177, AS4422 and World Rugby Regulation 22.  This comes with a Touch screen and manual drop handle.  An optional manual drop handle with a laser distance finder is available.
The tireless collaboration of Alpha and CPA has resulted in the advancement of protection of injury from falls by children and athletes around the world. A key element to the work behind TRIAX Touch is the provision of test equipment, training and educational seminars, and participation in standards development around the world.